This month we've been watching The Great British Design Challenge, which is a twelve- part series that sets out to put Britain's keenest amateur interior designers to the test.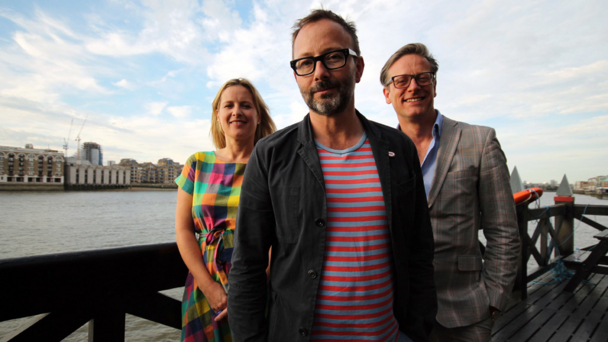 The BBC says,
"
Throughout the series, brave home-owners give over their bedrooms, kitchens, living rooms, dining rooms, hallways, and studies to put them all to the test. Each episode will follow the wannabe designers' trials and tribulations as they source materials, select products and try to find everything they need to make their room look great while staying in budget."
We love the way that the presenter, Tom Dyckhoff, architecture and design critic for The Times, fully informs the viewers on the design for each episode's chosen period from Georgian to Art Deco. It's a great example of the research we always recommend to our customers before a period look is to be attempted.
The bit we're not so sure about is the claim that "
the show will also be packed full of handy tips and guides for keen home decorators everywhere."
By the time we'd seen a coat of gloss being applied directly onto an untreated surface, only hours before the final judging, without any comment from the presenters, we became somewhat sceptical.
Perhaps not the buzz-words of the moment and certainly not in-keeping with society's desire for fast-paced makeovers. However, to get a long-lasting, professional-looking finish, we always advise attention to preparation.
The contestants are only given brief outlines from which to prepare mood boards and concepts for their given space. One way that some contestants stand apart from the rest is their ability to build a colour/decoration scheme in relation to the non-negotiables, whether that be pieces of furniture or the amount of natural light a room receives.
For instance, the winner of episode one, Sarah Moore, had clearly thought carefully about her scheme and based the colours around her fabrics, style in other rooms and interests to be reflected by the room.
This is work that absolutely pays off, even though it takes time. We advocate c
ollecting ideas well before you are ready to proceed with the decoration of your chosen room. This could include wallpaper and fabric samples, and images from Relics of Witney's Pinterest of rooms showing colour combinations and styles which appeal to you. Pasting all of these into scrapbooks or onto a large piece of card can help you find your style mojo.
Our big bugbear with The Great Interior Design Challenge is that, whilst it may make great television, rushing a room's design is never a good idea.
These are talented individuals. As a pertinent example,

a 48-hour deadline created this room, which shows very little of contestant Sarah Moore's creative flair

....
yet take a look at Sarah Moore's beautiful staircase in her home, created using vintage wallpaper....and a great deal of thinking time....
If you're
tempted to rush into decorating or are
not entirely sure how to get to grips with a particular painting project, and need input fast, then call into Relics of Witney or contact us for a chat. We're chock-a-block full of useful information that we love sharing with our customers.
Didn't your grandmother tell you?
A quick trip to Relics will save work in the long run!
Images via: BBC, Sophie Robinson, Enchanted England, Relics of Witney, The Daily Mail, Sarah Moore, BBC, Sarah Moore, Sarah Moore