Let's begin our new kitchen series by easing in gently. When you have neither the time nor the budget to make significant changes, how do you add character to your kitchen? Supposing you're renting, for example, and not allowed to change the wall colour, or the units; where do you go from there?
There is one vital component that can make all the difference: our range of kitchen accessories. At Relics of Witney, we hand-pick only the very best accessories so that you, by selecting those that match your style, can transform your kitchen quickly and easily...which is possibly one of the reasons why we're recommended by Country Living UK on their Pinterest page.
If you've not yet experienced the joy of using our version of the Sheila's Maid then may we urge you to do so without delay?
Very often, rental contracts state that you are in fact allowed to make adjustments so long as they are easily reversible.
Many tenants don't realise that this can include switching over the handles on your kitchen units.
It's surprising what an impact this small step can have. And, don't forget, when you move on, you can take your handles with you, meaning that your money is not wasted.
Don't forget the smaller details too. Again, these purchases are pieces that you can take with you. Here are some of our favourites... Our oak string holder is a perfect example of how to make a statement of quality in the little ways.
Our large selection of greyed rattan baskets are ever-popular with our customers, and it's easy to see why.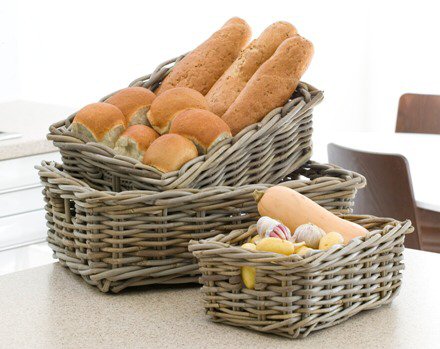 Sturdy, durable and stylish, these beauties will make selecting your ingredients a joy! Contact us for more details.
Whilst we love the idea of an old-fashioned roller towel hanging over the AGA rail....
We want this series about adding character to your kitchen, to show how even the tiniest details can make a huge difference, even down to this cast iron egg holder...
...but with so many of us wanting to invest more significantly in the heart of the home, next month, we'll be revealing our tried and tested methods for painting your kitchen cabinets.
Images via Country Livng, Relics of Witney, Kitchen Sourcebook, Relics of Witney, andrew carstairs, houzz, ark builders, Relics of Witney, Relics of Witney,, unknown, East2Eden, The Linen Works, Creamore Mill